Tizona II CNC Turning Machine
Award Winning CNC Turning Machines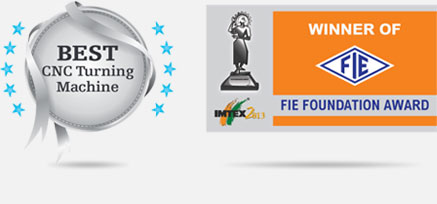 Awarded 'Best CNC Turning Machinces' by the FIE Foundation at the IMTEX 2013, BIEC, Bangalore.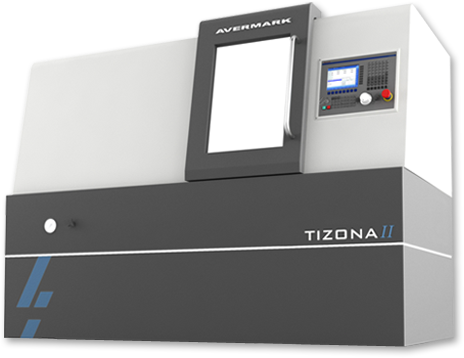 Key Features
Specification
CNC Controller
Diagrams
Key Features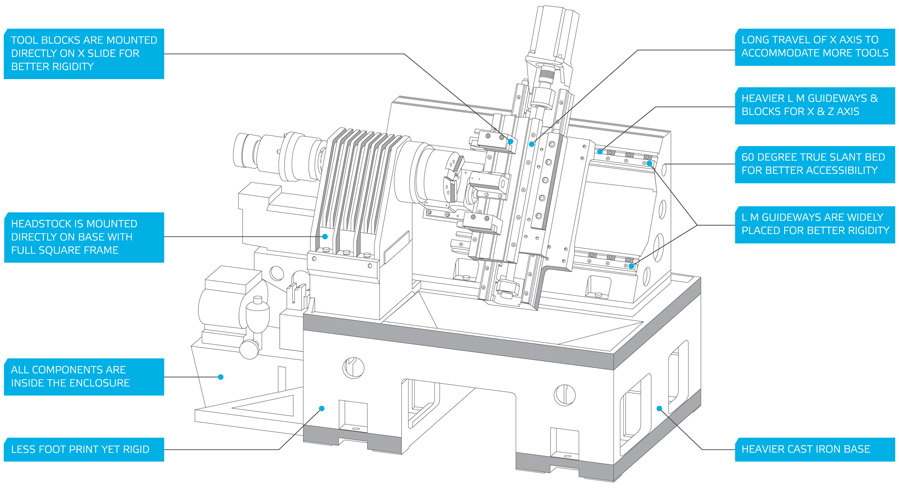 Advantages
TIZONA CNC Chuckers are most suitable for various kind of Chucking Jobs like Bearing Races, Endshields, Flanges, Hydraulic Spares, Clutch Plates, Discs, Brakes, Brake Drums, Impellers, Tappets, etc.
Why CNC Chuckers?

Why Gang Tooling?

Advantages of CNC Gang Tooling Chuckers

During our application study, we found that approx. 70-80% job applications are performed through chucking only.
We have learned that approx. 60-70% job applications utilizes maximum of 4 Tools.

Low on maintenance
Reduced cycle time
Save material & energy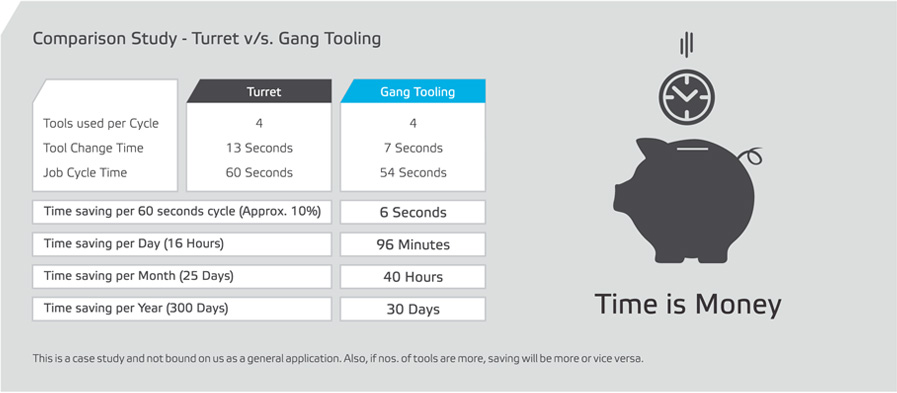 Specification
Capacity
Chuck Size
mm
200
Std. Turning Dia.
mm
175
Max. Turning Dia.*
mm
200
Max Turn Length*
mm
250
Max. Job Swing Dia.
mm
300
Slant Angle
Degree
60
Bar Capacity
mm
38
Headstock
Spindle Nose
A2-6
Hole through Spindle
mm
55
Front Bearing Bore Dia.
mm
90
Spindle Speed Range 
RPM
50-3000
Spindle Power (Conti / 15 Min)
kW
7.5/9
X-Axis
Axis Stroke
mm
450
Feed Drive 
mm
8 Nm
L M Size
Nm
35
Rapid Rate
mm/min
24000
Ball Screw Dia. & Pitch
mm
32 x 10P
Z-Axis
Axis Stroke
mm
260
Feed Drive
Nm
8 Nm
L M Size
mm
35
Rapid Rate
mm/min
24000
Ball Screw Dia. & Pitch
mm
32 x 10P
Tooling (Gang Type)
Tool Shank Square
mm
25
Tool Shank Round
mm
32
Accuracy (VDI 3441)
Max. Spindle Nose Runout
mm
0.005
Positioning
mm
0.010
Repeatability
mm
0.005
General Data
Net Weight (Approx.) Kgs.
Kgs.
3000
Gross Weight (Approx.) Kgs.
Kgs.
3500
Dimensions (L x W x H) Approx.
mm
2500x1600x2025
*It is dependable on Job, Tool Setup & Clamping Device.

Standard Features & Accessories

3 Jaw power operated Chuck Ø135 / Ø200 mm
Hydraulic Power Pack with Accumulator
Linear Motion Precision Guideways
Centralised & Programmable Lubrication System
Auto & Manual Coolant System
Air Conditioned & Humidity Free Electrical Control Cabinet with Quality Devices
Coolant Assembly with Chip tray
Axial Tool Holders – 2 Nos.
Boring Tool Holders – 1 No.
Instructions & Operating Manuals

Options

Chip Conveyor (For Tizona I - Side only, For Tizona II - Rear only)
Hydraulic Hollow Chuck and Cylinder
Hydraulic Collet Chuck
8/12 Station Bi-Directional Tool Turret
Bar Feeder
Bar Puller
Part Catcher
Auto Door
Auto Loader
Tooling Solution

Notes:
As improvements are constantly made in our CNC Machines, the mentioned Specifications, Dimensions and Details are subject to change without prior notice and not binding on us.

Accessories shown in photographs may not be part of Standard Accessories.
Smart Choice – Rexroth (Germany)
CNC Controller
The standard system supplied with Tizona Series CNC Turning Machine is Rexroth IndraMotion MTX Micro from Germany with latest technology and facilities.
Standard Features

8.4" Brilliant Color TFT Display
Compact User Panel
Integrated Electronic Handwheel
Integrated Mechanical Switches for Cycle Start & Stop
Integrated Axes Pre-Selector Switch
Auto Referencing
USB Interface to run NC Programs
64 MB CNC Memory
G-Code compatibility
Integrated Tool Management up to 999 Tools
Constant Surface Speed Control

Oriented Spindle Stop
Inch / Metric switchable
Various Cycles for Turning & Threading
Rigid Tapping
Self Diagnosis System
Direct Drawing Dimension
Online Help
Pitch Error Compensation
Backlash Compensation
Tool Nose Radius compensation
AC Servo Spindle & Axes Motors

Rexroth IndraMotion MTX Micro Advantages

Single controller with extensive Turning features.
Single piece MCP+MOP, hence less wiring. Integrated with all standard Controlling & Operating functions.
Single piece Controller unit with onboard Drives for easy wiring & maintenance free hardware.
USB Port integrated on MCP for Backup / Restore / Memory Expansion / Direct Editing.
C Axis Ready - Most advanced feature in basic machines.
Ethernet port for direct computer / network connectivity.
Direct Connection to 200-500V AC 50-60 Hz Supply without step down Transformer.
Readymade cables for motor Power & Feedback from Rexroth-Germany.
No fear of losing programs in case of battery failure. Battery used is 3V Lithium Battery which is easily available in the market.
Single Block can be used while using Canned Cycles.
Part program Memory 8 MB, 32 MB memory is available on inbuilt CF card.
Fault cause & recovery is displayed on screen for easy and simple fault diagnosis.
Simultaneous 4 Axes Control per channel.
Dual Spindle Support.
Interface Diagrams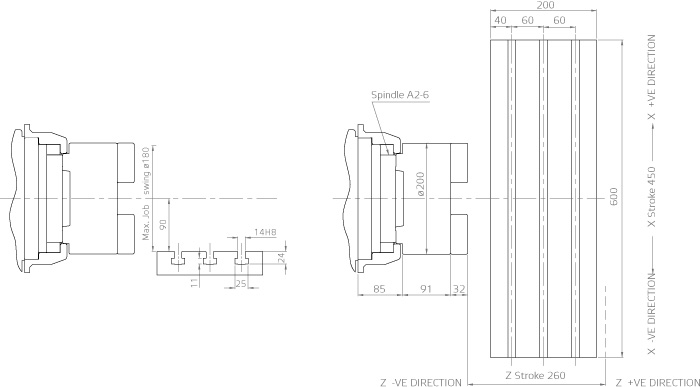 Spindle Power Torque Diagram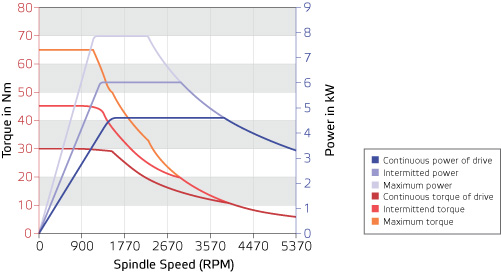 Options
Chip Conveyor (For Tizona I – Side only, For Tizona II – Rear only)
Bar Feeder
Bar Puller
Part Catcher
Hydraulic Collet Chuck
Hydraulic Hollow Chuck and Cylinder
Auto Door
Auto Loader
Tooling Solution